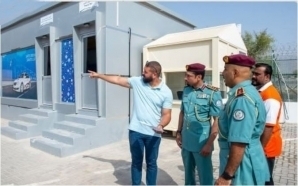 Together with the Sharjah Institute for Driving, the Eastern Region Police Department (ERPD) has finished all the steps for the driver's test service in Dibba Al Hisn. This is in line with the Sharjah Police General Command's goal of giving customers the best services possible and the Ministry of Interior's strategic goal of making customers happier with the services they receive.
Colonel Dr Ali Al-Ki Al-Hamoudi, Director of the Eastern Region Police Department, visited the centre this morning and was given an update on the status of the project.
He said that Sharjah Police is committed to making its services easy to get to, and he told the staff that they should do their best to meet customers' needs according to the highest standards in use right now.
Colonel Dr Al-Hamoudi reaffirmed the centre's capacity to offer all the services required for obtaining a driver's licence.